Independent work took on a whole new meaning in Gena Schleimer's science classroom during the past year.
Gena, a seventh- and eighth-grade science teacher at St. Agnes Catholic School in Roeland Park, Kansas, is the 400th graduate of the National Institute for STEM Education Teacher Certification program. She describes the self-paced STEM certification program as "eye-opening."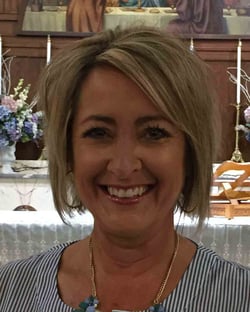 Gena credits the self-reflection component of NISE's teacher certification with her classroom transformation. "I saw the biggest change in my practice when I really turned over the reigns to students. I had thought I was doing that a lot before, but it wasn't even close to what I could have been doing," she laughed.
"When I had [students] process through and allowed them time to think critically instead of me interrupting them all the time to 'help,' the growth I saw was amazing."
Gena added her students' assessment scores have "gone through the roof" on the Kansas state test, as well as their scores for NWEA MAP, a national assessment that gauges students' proficiency and growth in science, math, reading and English Language Arts.
STEM emphasizes skills that transcend the classroom, and Gena feels her NISE Certification helps her develop these skills in students. "I've done a lot of research on what companies are looking for. They are looking for kids who are self-motivated. That is what this STEM certification has taught me to do for my kids--help them become self-motivated and driven and able to think on their own."
Her students at St. Agnes tend to be driven by academic success, so Gena understood that allowing for productive struggle in the classroom may cause some discomfort. "That need to get that A+ all the time was interfering with their learning. It was huge for them to finally realize it's OK to make mistakes because that is when they learn," she said.
Gena modeled this concept for her students as she completed her NISE STEM Certification. Whenever one of her NISE submissions was returned for revision, she shared the setback with students, pointing out the learning that can be made through the making of mistakes and the joy of doing so together.
Gena's revised classroom approach to critical thinking became evident in January during an eighth-grade lab class focusing on the energy of chemical reaction. She said that was the first time she consciously decided to let students be in charge of the investigation, and the experience brought her to tears. "The students were like, 'There's Mrs. Schleimer crying again!' It just moved me so much to see them take control like this. And they did it! Their writing--the Claim/Evidence/Reasoning responses--were dynamic. I told them I could not have written them as well as they did."
Gena's experience with NISE helped her realize she should focus on students' development of 21st century skills in addition to helping them develop content knowledge. She incorporated this change by teaching students how to write a Claim/Evidence/Reasoning response for lab experiments, have academic disagreements without becoming upset, and use correct wording to successfully support their arguments.
Next year, she plans to start incorporating 21st century skill building even earlier in the school year.
In addition to teaching, Gena is the science department chair for her campus, as well as the Project Lead the Way instructor and Master Teacher, Team America Rocketry Challenge coach, and the STREAM Coordinator. STREAM is an acronym for Science, Technology, Reading and Writing, Engineering, Art and Math, which is a STEM approach that specifically names all disciplines. This coming school year, she's also going to start training her colleagues to teach students from kindergarten through fifth-grade how to write Claim/Evidence/Reasoning responses.
Gena, a teacher for 22 years, decided to pursue her STEM certificate after using STEMscopes curriculum from Accelerate Learning for the past two years. "I am a huge, huge, huge fan of how it is set up...how it really compels the kids to be in charge of their own learning. I'm just facilitating in class, and it's the best part of what I do," she said.
It took her about one year to complete the 50 hours of work for her NISE Teacher Certification. She hopes to become a NISE coach or STEMscopes writer in the future to continue her STEM development.